Domain Toit du Monde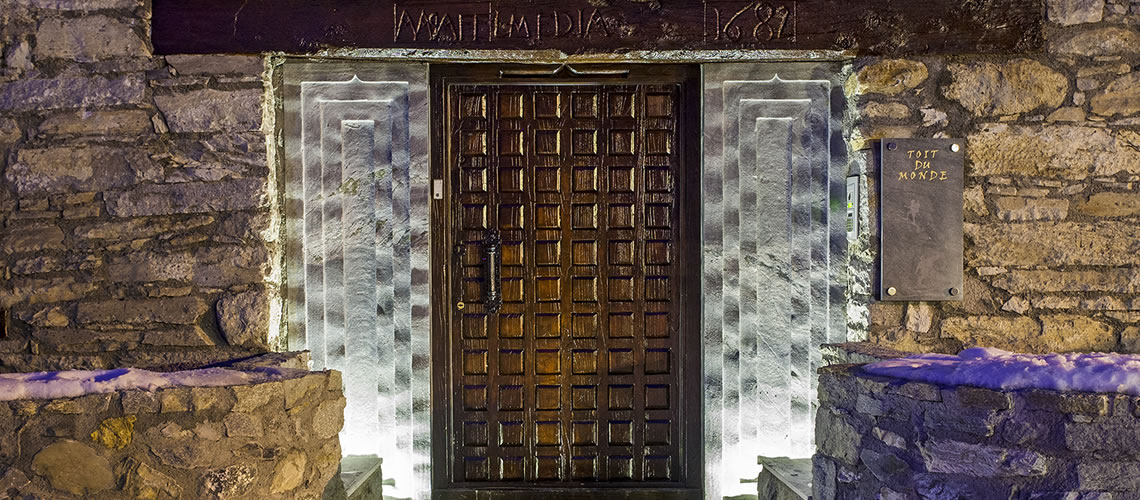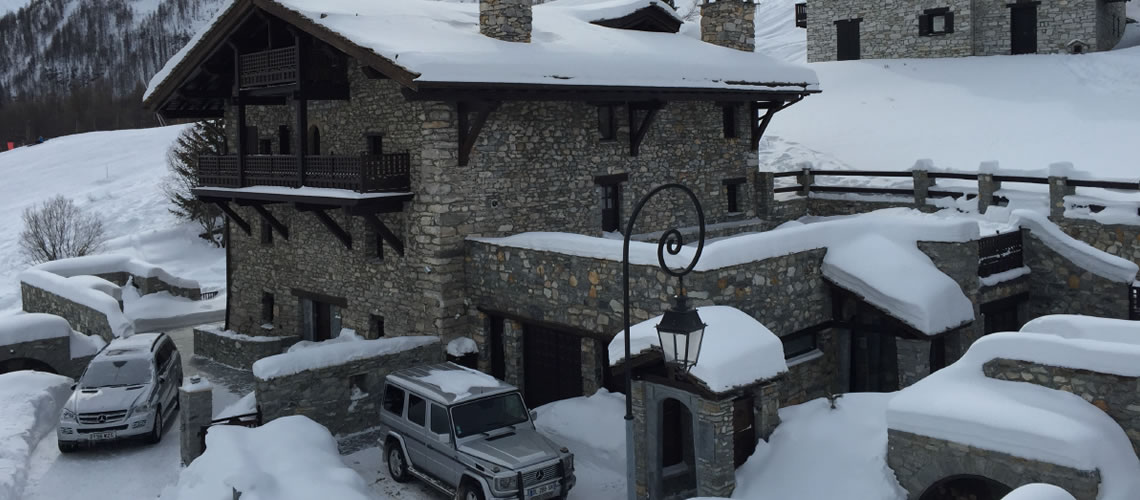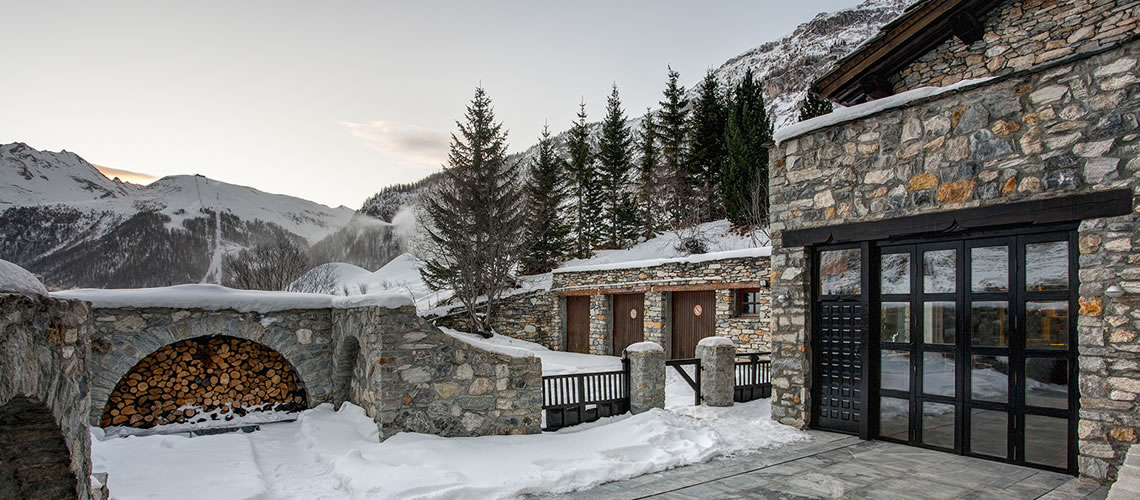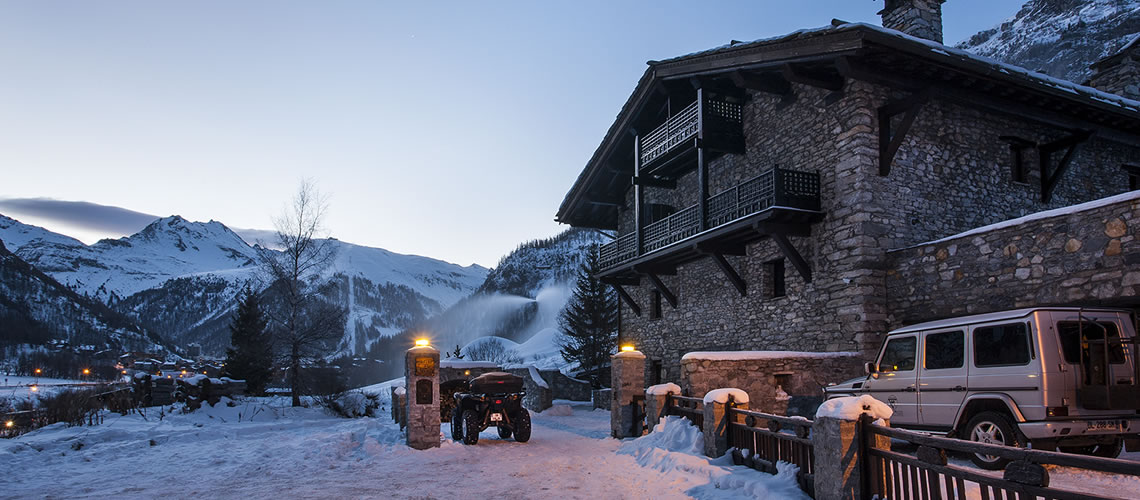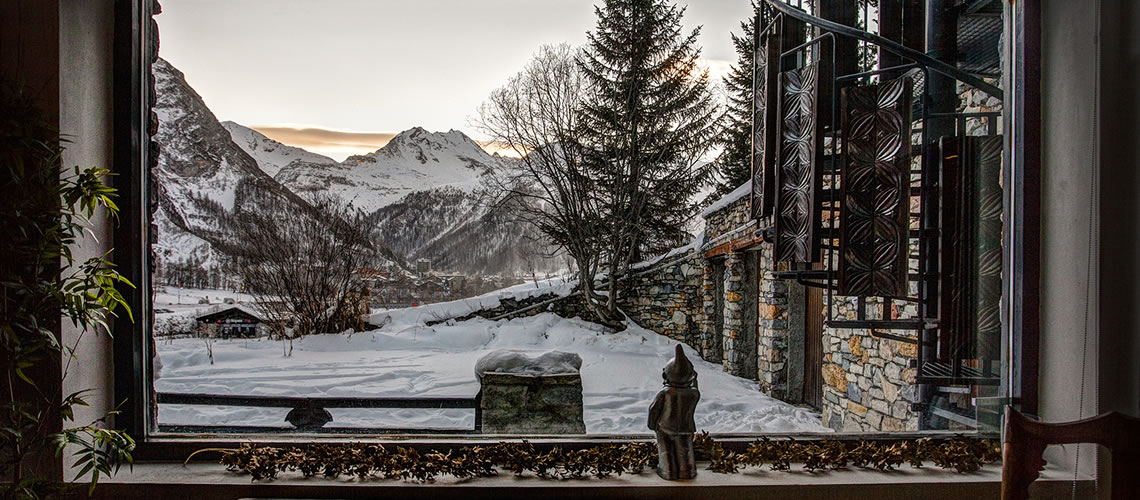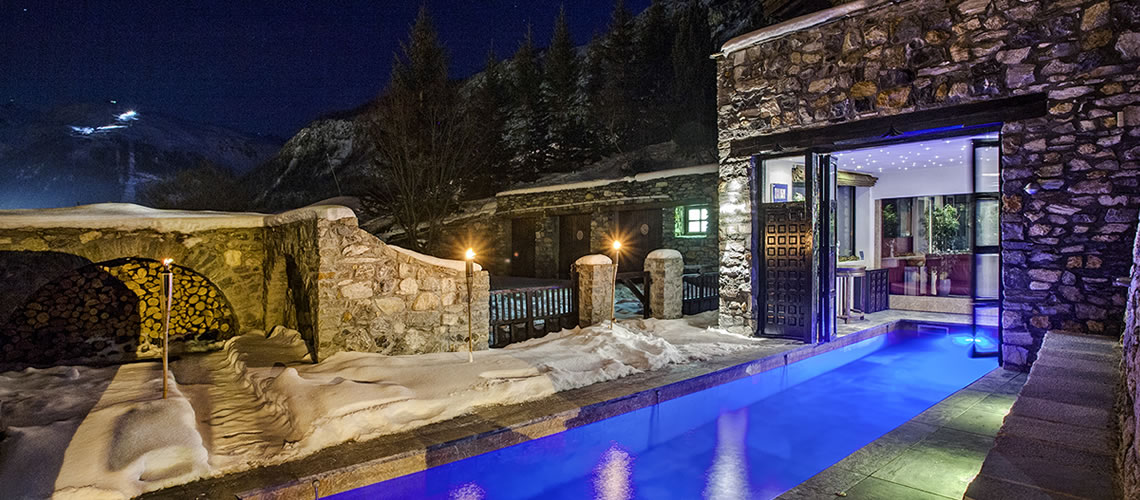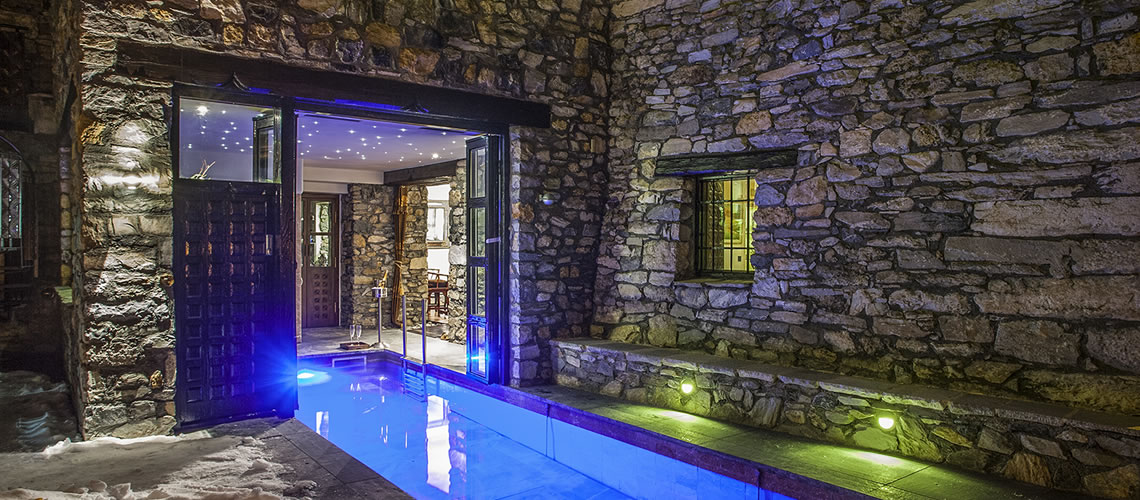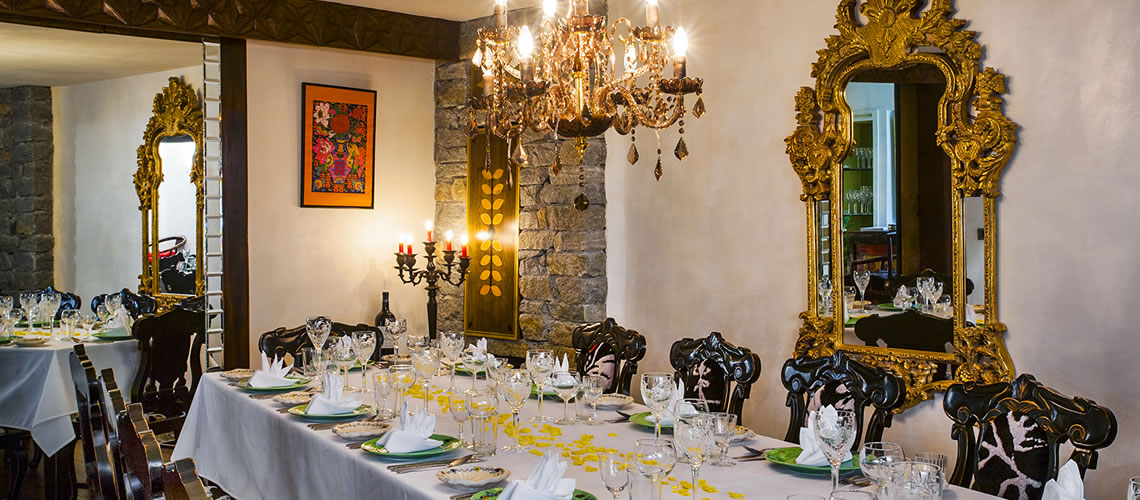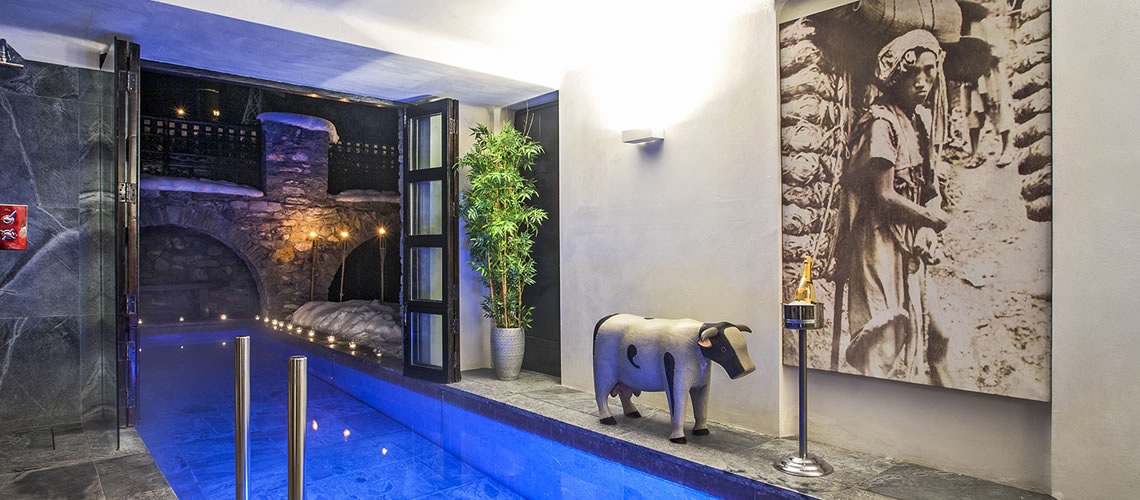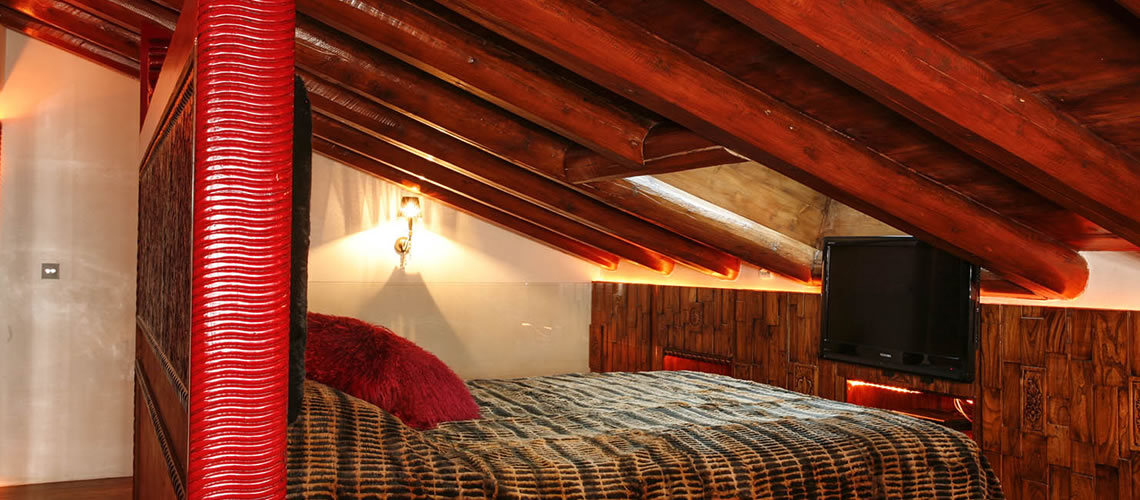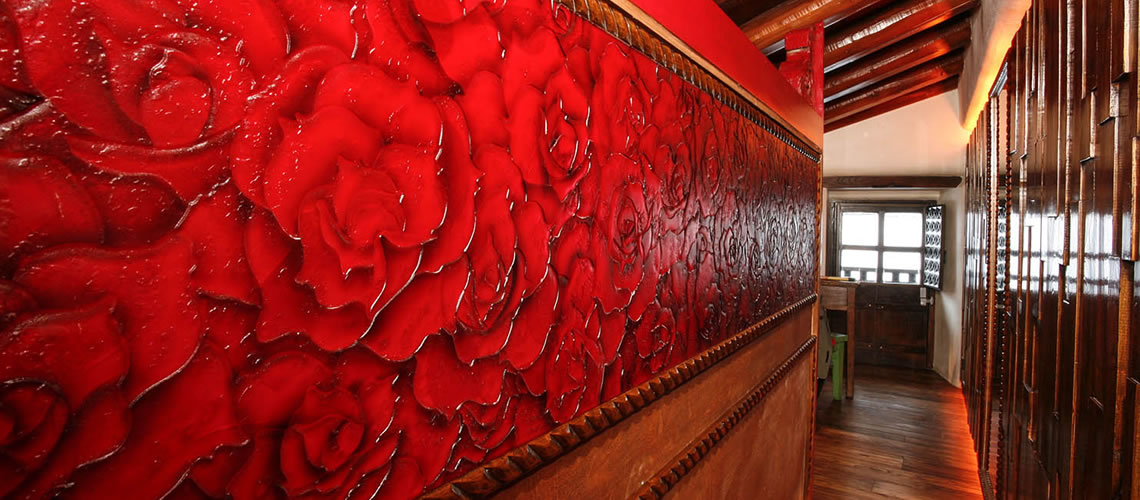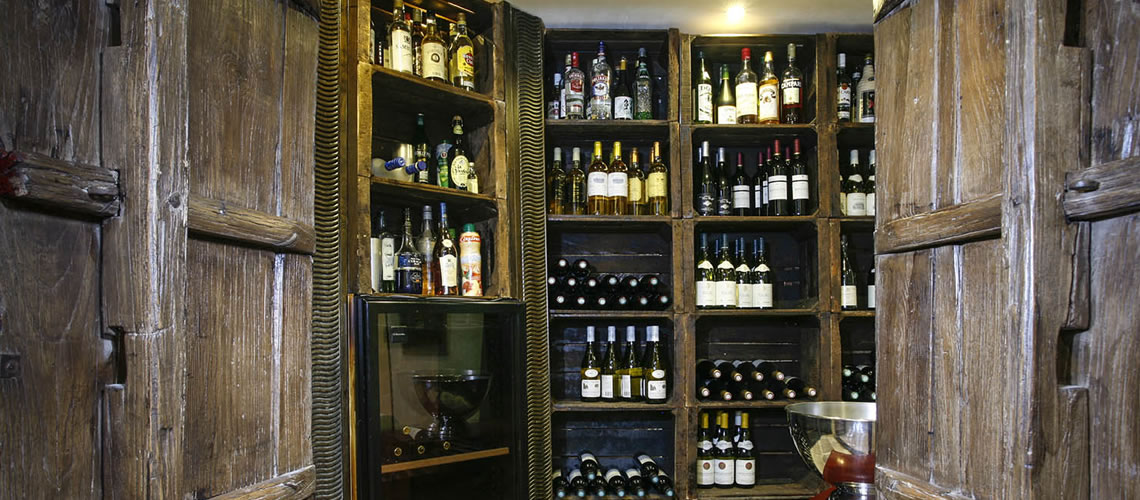 Inside Domain Toit du Monde
Enter as the monks did, through the doorway and under an original beam from 1632 – but there, the difference ends.
A chandeliered entrance hall encased in white marble with a fireplace opens into a second hallway via a pair of imposing antique hammered iron doors.
Shielding the second hallway from the living room is a wall made from ceiling-high blocks of marble carved with the Royal Family of Savoie's favourite chain motif which follows the wall round on both sides.
The Living Room
A designer dual-face fireplace in cast iron and glass keeps the white chandeliered entrance hall teasingly in view from the leather sofas which line the room.
The austerity of the 1.5 metre stone walls of the original monastery is lightened by warm colours of antique furniture sourced worldwide strictly from mountainous regions.
From here, you can be transported into your own private movie-theatre or sports arena by the Home Cinema system, which is discreetly hidden until activated by remote control to reveal a giant drop-down HD screen.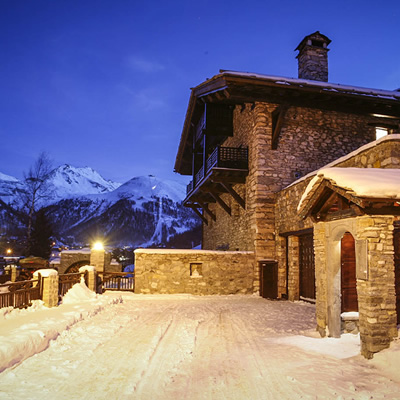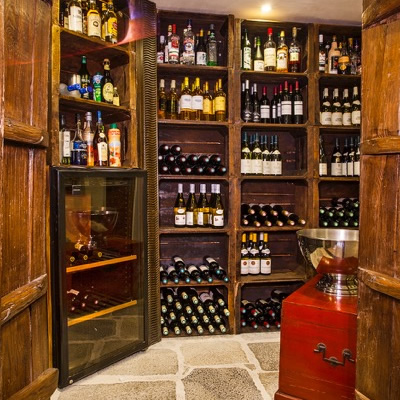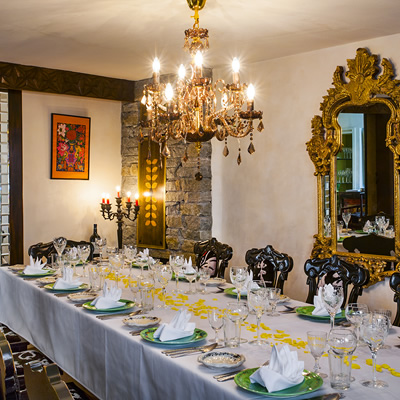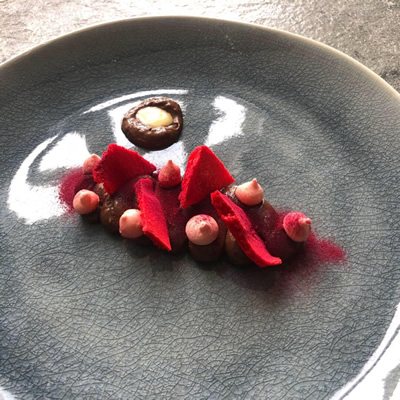 Informal Breakfast/Tea Room
Snacks and a selection of drinks are set up on the antique side-boards of this sunny and friendly room for guests to enjoy on a 'help yourself' basis all day following breakfast.
Staff can be summoned at anytime to provide personal service if preferred and also to prepare hot drinks or even hot snacks from the 24-hour service menu.
On request, a traditional samovar can also be set up for fragrant tea to be available all day.
Guests have the option of Breakfast or Afternoon High Tea to be served informally 'buffet style' in this room, or as sit-down meals in the Dining Room. Alternatively this room can be dedicated exclusively for use by 'young' guests.
This room connects to one of the 2 swimming pools.
Dining Room
The Dining Room seats up to 20 persons around the extended hand-carved dining table under a crystal chandelier. Chairs are luxuriously upholstered with shearling fur and each chair features a unique design.
Dinner is served here on fine china. Formal Breakfast and/or Afternoon High Tea can also be served here at guests' discretion.
The Dining Room extends into a Relaxation Wellness Area around one of the two red-marble swimming pools which are kept out-of-sight underfloor except when in use.
At night, the arches in the private courtyard are lit and the pool can be used as a water-and-light feature when dining by candle-light.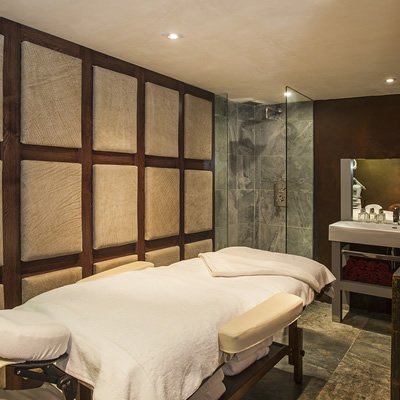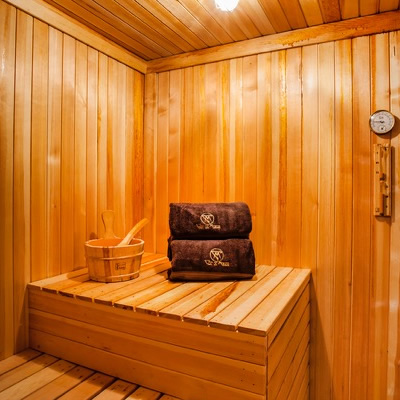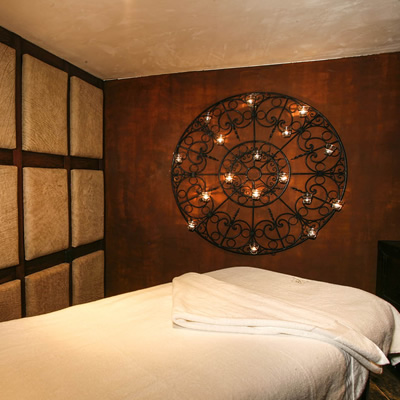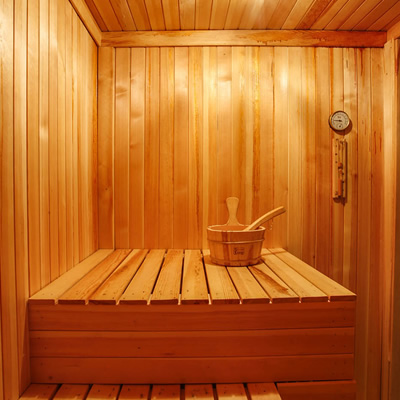 The Suites
There are eight suites in Domain Toit du Monde to sleep up to 16 guests:
Castenz Deluxe Suite – 1st floor
Kosciusko Deluxe Suite – 1st floor
Elbrus Deluxe Suite – 1st floor
Vinson Massif Deluxe Suite – 1st floor
Denali Grand Suite – 2nd/3rd floors
Everest Grand Suite – 2nd/3rd floors
Kibo Grand Suite – 2nd/3rd floors
Aconcagua Grand Suite – 2nd/3rd floors
All bedrooms can accommodate twin or double beds. There is also the option to welcome additional guests upon request in the Grand Suites.
All bedroom suites are underfloor heated with independent controls, and include separate sleeping and relaxation areas.
The warmth of the elm floor is complemented by walls decorated with beautiful back-lit carved wood panels.
The exquisitely comfortable hand-made hardwood king size (or twin) beds are enhanced with antique carvings which frame the bevelled mirror features. Discreet reading lamps are artfully concealed when not in use.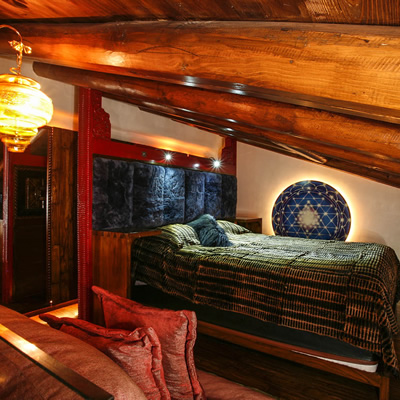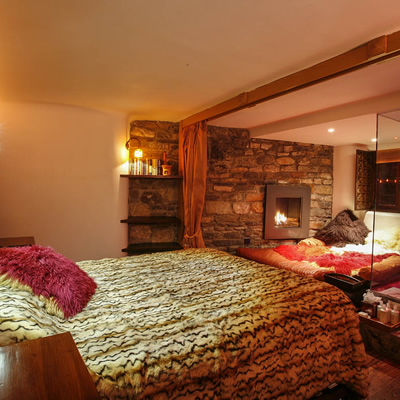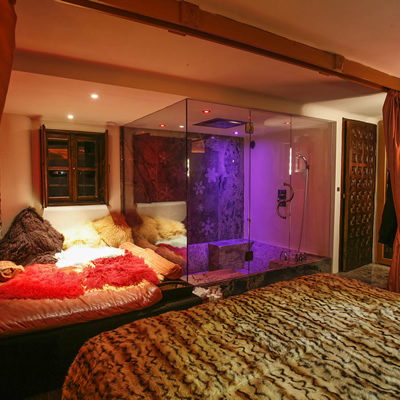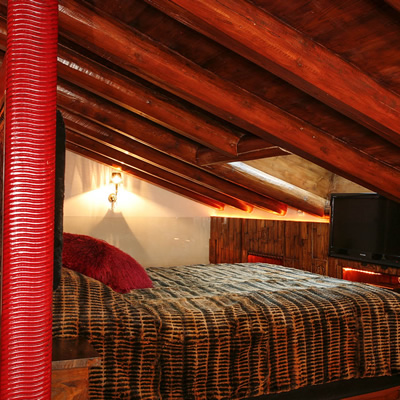 The bath and twin vanities are hand-sculpted from individual whole marble slabs. The spacious bath is carved out of a solid 800 kilo piece and flanked by marble walls and glass. The walls are adorned with a variety of engraved snowflakes, while the floor of each bath is subtly heated. The bath, of such impressive proportions that it is classified under French building rules as a 'swimming pool', also commands a rain shower and converts into a steam room, comfortably seating up to 4 or more persons.
In addition, each room also features a leather-covered day bed strewn with fur cushions and "hugs", complete with sunken ice bucket and multi-mode sockets. Also included are full length mirrors , bathrobes, room service trays, shelves and drawers with hanging space, and a generous number of angora throws and cushions. A stone-surround metal fireplace with real flames which can be modulated adds to the ambience in each room. The suites also offer a security safe, and high-tech comforts such as HD TV, wireless access and an electronically-controlled heated lavatory seat, with sophisticated multiple hygiene functions.
All toiletries are organic products. Pillows, duvets and cushions are hypo-allergenic and natural, filled only with silk, organic buckwheat and silkworm extracts. Natural furs and quality leather mingle with artefacts and antiques all of which enjoy charming thematic or sentimental connections.
Each suite's mood lighting is carefully structured to enhance furnishings and artwork, which are unique to the individual suite.
2 Spa Therapy Rooms
Both Spa Therapy Rooms are decorated with plush Italian wall-coverings, lightly luminescent with a mix of gold, metal and marble dust. The scent of aromatherapy oils in combination with the soft glow of natural non-toxic beeswax candles will relax you further after our distinctive warming footbath and herbal tea ritual. Guests choice of treatment, as selected from our Spa Menu, will then follow.
2 Saunas and 8 Steam Rooms
There are 2 Saunas made of Russian fir. Each of the 8 suites boasts its own steam room.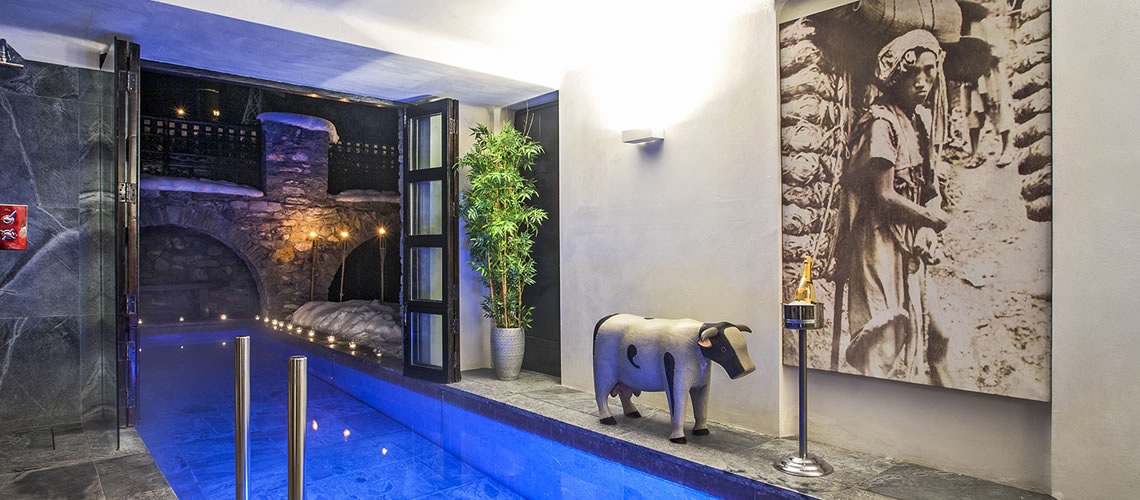 2 Swimming Pools
Both 'secret' swimming pools use the same high-end 'James Bond' technology which reveals them dramatically from under solid marble floors. Each pool can be individually adjusted to be of varying depths and water-colours. Temperature of the water is maintained at 32 degrees Centigrade. Both pools have indoor and outdoor sections.
The Pools are available for use until midnight each day.
Guests are welcome to order their drinks from the pool, indoors or outdoors, while counting the stars.
2 Cigar Rooms
The 2 Cigar Rooms made of glass and red marble are both furnished with deep-red leather sofas and walls to resemble jewel boxes. Sink into the soft seats and light up your cigar with a choice of drinks. Each room has its own humidifier. The choice of cigar rooms offers alternatives to cigarettes, cigars, conversation and views.
2 Ski Rooms
Two dedicated ski rooms are equipped with boot cupboards housing individual boot heaters, along with all the 'little things' that make a day's ski perfect – suntan lotion, munchies, ski-map, bottled water, lip balm. Staff are always on hand to help get those boots off!